Make Goodwill your PC Recycling Center!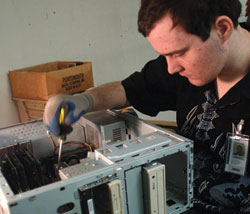 In an effort to reduce the number of computers discarded in landfills and provide job training and career services to people with disabilities, Rappahannock Goodwill has teamed up with the Stafford R-Board and Computer Recycling for VA and implemented a PC and Small Electronic Recycling Program that refurbishes and demanufactures donated computers and electronics.
This process eliminates e-waste and provides employment-training opportunities for people with disabilities and other disadvantages.
Goodwill accepts the following electronic/computer donations:
Desktop Computers (PC and MAC)
Laptop Computers
Monitors
Hard Disk Drives
Floppy Disk Drives
CD-Rom Drives
Printers (Ink Jet & Laser)
Gaming Systems and Accessories
Stereos/DVD Players/Camera's/TV's all in working condition
Where can I donate?
Computer/electronic donations are accepted at all Goodwill Store Donation Center locations or at the Stafford County Regional Landfill. Click HERE for donation locations.