Introduction to Your Goodwill
Since 1966, Rappahannock Goodwill Industries has believed in the power of work to change lives. In today's society, to have a job, do it well, and reap the benefits is one of the most important ways a person can live with dignity. 
Our Mission: We create jobs locally, prepare people to succeed at work, and help them overcome barriers to employment.
Rappahannock Goodwill Industries serves people in the city of Fredericksburg and the following counties: Stafford, Spotsylvania, Culpeper, Fredericksburg, Westmoreland, Orange, Caroline, King George, Louisa, Richmond, Northumberland, Rappahannock, and Essex.
For thousands of people in our region with disabilities or barriers to employment, Goodwill has been the conduit to the world of work. "People come to us with obstacles confronting them that we could barely conceive, and through their perseverance and assumption of responsibility they overcome those obstacles," said President & CEO Donnie Tolson. "While people with disabilities are the heart and soul of this organization and will remain so, RGI focuses on an open door for all who need our help."
If you would like to learn more about Rappahannock Goodwill, you can take a tour of our facilities including our stores, donation centers, Job Help Centers, and our Laundry Facilities. For more information on taking a tour or to have an RGI representative make a presentation to your group, please contact Heather Schulz or call (540) 371-3070, (800) 789-2816.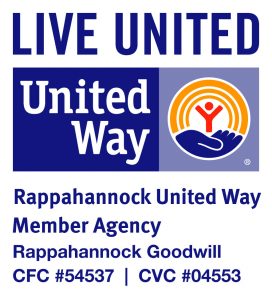 Goodwill Guidance
Rappahannock Goodwill Industries operates under the governance of a local volunteer Board of Directors, comprised of members from the local business community and others who have an interest in the mission of our organization. The Board is responsible for formulating and overseeing corporate policies. A full time CEO is responsible for all aspects of Goodwill's day-to-day operations and for meeting the organization's long-term goals. If you'd like to view of a copy of RGI's by-laws, please contact Heather Schulz at 540-371-3070.
Officers
Bruce Barnett
Chair – Stafford
Dermaine Lewis
Vice-Chair – Spotsylvania
Kathy Beard
Past Chair – Caroline
Tim Tobin
Treasurer – Caroline
Jonathan Riley
Secretary – Spotsylvania
Donnie Tolson
Ex officio – Fredericksburg
Directors
Jeanne Burkett
Spotsylvania
Rob Clark
Honorary Director, Stafford
C. Douglas Elliott
Henrico
Martha Hutzel
Fredericksburg
Eldon James
Richmond
Linda Lumpkin
Essex
Chris Miller
Madison
Susan Spears
Fredericksburg
Barry Waldman
Spotsylvania
CARF Certification

From the U.S. to Canada and Europe, rehabilitation and human services providers seek the Commission on Accreditation of Rehabilitation Facilities (CARF) accreditation. CARF accredits only programs that meet rigorous standards with the purpose of improving the quality of services that enhance the lives of the persons served.
Rappahannock Goodwill Industries is accredited by CARF for a period of three years through December 2017. The programs and services Goodwill was accredited for are under Employment Services and are as follows:
Community Employment Services: Job Development
Community Employment Services: Job Supports
Community Employment Services: Job-site Training
Employee Development Services
Employment Planning Services
Organizational Employment Services
This 3-year accreditation outcome represents the highest level of accreditation that can be awarded to an organization and shows the organization's substantial conformance to the standards established by CARF. Goodwill is proud to have received this prestigious award for well over 20 years.
Collaboration Zone–Working Together To Change Lives
Rappahannock Goodwill Industries believes that through the power of collaboration with other organizations, more people can be served and more lives impacted in a powerful way.
The Goodwill Community Resource Center features nearly 10,000 square feet of office space specifically for partner organizations so we can work together and change lives.
Co-location of the Goodwill staff and the staffs of other agencies will facilitate working together to better assist people. The collaborative environment allows us to help people with a variety of barriers reach their full potential, both on and off the job.