Goodwill Needs Your Donations
Thank you for supporting our mission of helping people find jobs. When you donate gently used items, we are able to help people who are looking for work. Thank you!
Where You Can Donate
In-Home Pickup Service
Donate to Rappahannock Goodwill Industries
Giving to Rappahannock Goodwill means you are supporting our local mission of helping people find jobs. We are able to assist 500 people every month who are looking for work.
If you have questions, simply fill out the form on our contact page.
Rappahannock Goodwill Industries is a 501(c)(3) not-for-profit charitable organization and you can request a copy of our IRS Form 990 at any time from our main office in Fredericksburg.
When you give financially to Rappahannock Goodwill, you are helping to assist people who need employment – particularly those who have a barrier that is preventing them from working and leading a productive life.
Sometimes we take for granted the education, skills, and training we have that allow us to live and work independently every day. RGI helps those who, for a variety of reasons, need assistance in finding employment.
Each time you donate gently used clothing or household items to Rappahannock Goodwill, you help change someone's life by giving him or her the chance to work. Your donations of gently used goods can make a difference for people in our community, and help make a healthier planet as well. Your donations could be tax-deductible.
Goodwill will gladly accept gently used clothing, household items, computers, and automobiles. We know that you want your donation to do the most good for your community. Since we do not have the resources to repair broken objects, please do not donate items that are in need of repair. We have donation centers located throughout the region to make donating as convenient as possible.
Here is a list of items we are prohibited from accepting:
Flammables
Weapons
Guns and ammunition
Box style TVs
Mattresses and box springs
Furniture that is torn, broken, or stained
Any item that has been recalled
All large appliances
Please do not leave items outside our donation centers after hours because they will be exposed to the elements and may get vandalized or stolen.
You will find additional information at our FAQ.
Thank you for your support and for choosing to donate to Rappahannock Goodwill Industries. Each donation helps people find jobs.
When you donate a vehicle to Rappahannock Goodwill Industries, you help support vital local employment programs for those with disabilities and other barriers to employment. With each donation, Goodwill is able to assist people right here in our community through our Job Help Centers and other employment resources.
Goodwill accepts donated vehicles (cars/trucks/vans) and even boats! They can be in good working and safe condition or vehicles that haven't run in years!
To find out more and the tax benefits you could enjoy, just CLICK HERE or call 866-233-8586.
Through a partnership between Goodwill and Dell Reconnect, we accept all brands of computer equipment for recycling. Bring computers and peripherals to any Rappahanock Goodwill Donation Center and we'll give you a receipt. 
Some items may require extra preparation before you bring them in, so remember to remove your personal data from hard drives or other storage media before donating to Goodwill.
For more information about this program, go to Dell Reconnect.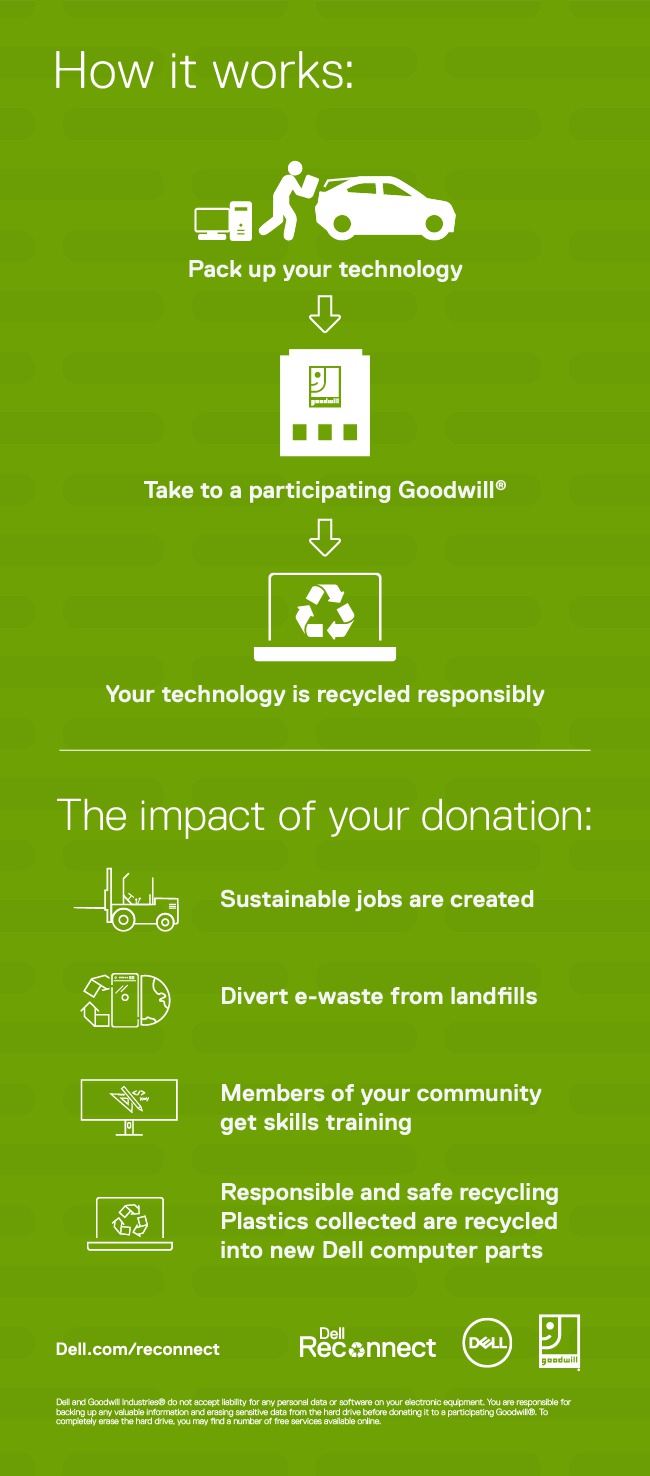 Please make sure you keep the donation receipt you receive when you donate to Rappahannock Goodwill. The donation receipt you receive is the ONLY record of your contribution to the mission of Rappahannock Goodwill.
We apologize that we are unable to provide a record of your donations should you request one in the future.
Thank you.