Job Training, Employment Skills, and Literacy Education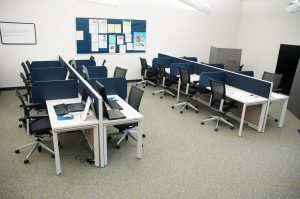 Job training, employment skills, and literacy are essential for anyone searching for work in a competitive job market like the Fredericksburg region.
Having basic skills – reading, computer literacy, keyboarding, resume and cover letter design, internet job search – is critical when searching for a good job. A professional looking resume and cover letter can make a big difference in getting that all important interview.
These basic skills, along with job search tools and access to the job market, are easy to take for granted if you already have them. If you don't, your ability to compete in today's job market is limited. That's where Goodwill comes in. Our Job Help Centers provide access to job search tools and free assistance and training on all of these skills. Our trained employment specialists work one on one with individuals to help them master needed skills and find a job. Goodwill's on-the-job training programs are also very beneficial.
Goodwill uses advanced assessment tools to determine job skills and placement potential. These tools include: 
NorthStar Digital Literacy – Northstar helps test your computer skills. You can build skills in key areas, and demonstrate your knowledge by earning certificates and badges.
Career Scope – a self-administered system that measures both aptitude and interest for job placement or potential.
MajorClarity – an online assessment guide which helps individuals discover their future careers—and the paths to make them a reality.
These services are provide free at any Rappahannock Goodwill Job Help Center.
Call to make an appointment: 540-371-3070
Working at Goodwill provides you with an incredible opportunity to serve our community while refining your skills in a positive work environment.
See the current job listings and apply by clicking the button below.
If this is your first time applying, please scroll down and click, "NEW ID."

Rappahannock Goodwill Industries, Inc. is an Equal Opportunity Employer – M/F/Disabled/Veteran.
Click to download Rappahannock Goodwill EEO and AAP Policies
Goodwill's mission is to create jobs locally, prepare people to succeed at work, and help them overcome barriers to employment.
Some of the quality vocational and educational services that Goodwill offers are provided through our Job Help Centers. These centers offer FREE HELP to people in our community who need skills and resources to succeed in today's workplace.
For more information on Goodwill's Job Help Centers, please contact one of our centers listed below and ask to speak to an Employment Specialist.
Our Job Help Center locations or shown below on the map.
HIPAA Notice of Privacy Practices 2016-05-02
Resources available include:
Job Postings
Computers
Internet
Telephone
Fax & Copier
Skills training includes:
Basic Computer Use
Keyboarding
Application Writing
Resume Design & Preparation
Cover Letter Design & Preparation
Interviewing
Available Services For Employers and Individuals
Extended Employment Services (EES) are essentially an employment opportunity with RGI itself. As an employer, RGI (like other competitive employers) endeavors to provide a quality work environment for its work force. RGI offers choice in the work place, achievement potential, and promotion opportunities. It is in the employee's and RGI's best interest when the employee is trained to be a flexible, productive worker. RGI's EES offer employment to persons who are not ready for positions in the competitive sector of the job market. Although EES participants work in settings that replicate many of the conditions of competitive industry, our intensive task training, high supervisor to employee ratio, and strategic reinforcement of effort enhance each participant's progress.
Similar to individual Supported Employment, Group Supported Employment (GSE) is for groups of individuals (8 maximum) who have similar work interests and require intensive coordination, job training, and long-term coaching/supervision. The group model that RGI utilizes is the "enclave" or "work crew" model. Crews work under the direct supervision of a trained RGI supervisor. In addition to the enclaves that are sponsored by RGI itself, individuals who are Medicaid eligible can now receive the necessary sponsorship through Medicaid for participation in a Group Supported Employment enclave, making these opportunities even more robust. RGI has relationships with multiple community employers to provide employment opportunities in the custodial and retail fields.
This program goal is "to help participants understand the meaning, values, and demands of daily living by assisting them in achieving the highest possible level of independence through the use of a community-based, positive approach to the management of excessive or inappropriate behaviors." The underlying emphasis of this program is to transition to and from vocational programs.
RGI provides a broad spectrum of services to individuals with barriers to employment who want to become employed in the competitive job market. Supported Employment offers person-centered planning services to individuals requiring intensive services from the beginning planning stage through job placement and career advancement. Goodwill's Supported Employment success oriented process consists of a system of assigned Employment Specialists who provide all or some of the following services to individuals: case management, assessment, counseling, individual service plan development, job development, placement, job training, retention services, and career planning.
GoodSkills – Literacy Program
There are many barriers that prevent families and individuals from becoming active and prosperous members of society. Often the most detrimental and correctable barrier is a lack of three basic skills: literacy, numeracy, and basic computing. These skills are often taken for granted by most of us; for those who lack them, they represent seemingly insurmountable barriers to achieving vocational success.
The National Center for Education Statistics estimates that 8% – 20% of the adult population (age 16 – 65) in the localities RGI serves lack basic prose literacy skills. In our greater region, there are 36,300 (11.3%) people who are lacking the basic prose literacy skills needed to fill out a simple form or job application. Nearly two-thirds of the lowest skills group did not complete their education through high school; many are immigrants while others have other physical, mental, or psychological barriers.
RGI has experience working with people with each of these barriers and thanks to the GoodSkills Literacy Corps is now directly assisting with literacy skills.
GoodSkills Literacy Corps utilizes full-time AmeriCorps members to perform direct service activities including tutoring individuals and teaching small groups in the areas of literacy, numeracy, and basic computing skills. Additional activities include outreach in the community to recruit program participants and volunteers, participation in community service projects, a GoodSkills Literacy Corps group project, and professional development exercises.
One main function of these AmeriCorps members is to recruit and train volunteers for the program. There are volunteer opportunities for literacy tutors, special project assistants, and many more!
For more information, please email the AmeriCorps Program Director, Shanna Boutchyard, or call (540) 371-3070.