The Goodwill Outlet – Savings By The Pound!
It's an entirely different way to shop Goodwill – an Outlet! Our Goodwill Stores have merchandise arriving all the time – there's always something new to find! If items don't sell fast enough, we take them to the Goodwill Outlet where you can buy great, name-brand merchandise for drastically reduced prices!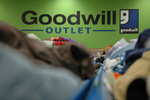 The pricing at the Goodwill Outlet is much different than what you'll find at other stores – at our outlet you will shop for most items by the pound! That means you simply load up your cart with all the clothing and housewares you want, they are weighed at the register, and you pay a ridiculously low price!
You never know what you will find because the selection changes every hour!
The Goodwill Outlet is located in the Lee's Hill Center in Spotsylvania County next to our Goodwill Store (4701 Market Street, Fredericksburg, VA 22408). For location and hours, click here.
Stop by, see the selection, and have some fun saving money!